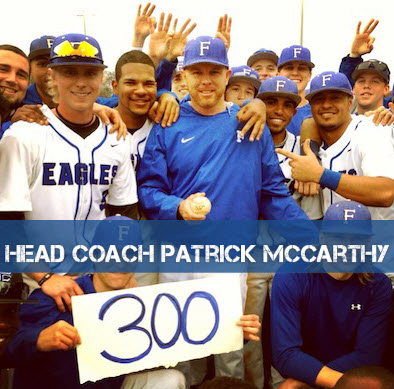 Patrick McCarthy is entering his sixth season as the Eagles' head coach and in that time has turned the baseball program into one of the nation's elite. His Eagles won the 2013 NAIA World Series after racing through the double-elimination event undefeated en route to the program's first-ever NAIA national championship. McCarthy brought home numerous national coach of he year honors that same year. 
He's taken the Eagles to the NAIA national tournament five times, with World Series appearances in 2011, 2013 and 2014. Faulkner has posted a record of 241-76 under his leadership.
Faulkner also won the Southern States Athletic Conference regular-season championship the past three seasons, and McCarthy was a repeat winner of the league's coach of the year award in 2012 and 2013. The national champions were 56-11 in 2013, and the 56 wins are a program best.
Before coming to Faulkner he was the head coach at Freed-Hardeman University in Henderson, Tenn. McCarthy had five winning seasons as head coach and compiled an overall record of 158-108 (.594), with a 58-47 TranSouth Conference record.
Faulkner's first victory in 2015 will be McCarthy's 400th as a collegiate head coach.
McCarthy was an assistant coach at Freed-Hardeman from 2001-2004 before being promoted to the head coaching position in 2005. His influence at the helm helped turn the program around, with the Lions having finished last in the TranSouth conference for five consecutive seasons beginning in 2000. By 2007, however, the team had earned its first national ranking in more than 10 years and a third-place finish in one of the nation's toughest conferences. McCarthy's Lions continued to be a force in the TranSouth Conference and nationally in subsequent seasons. Also an accomplished recruiter, he has signed numerous players who have earned All-American honors at the collegiate level with many having gone on to play the sport professionally.
In addition to running the varsity program, McCarthy began a junior varsity program at both Freed-Hardeman and upon his arrival at Faulkner. The program is designed to offer more student-athletes the opportunity to be involved in collegiate sports and to provide athletes the potential to transition to the varsity roster. 
McCarthy played two seasons at North Florida Community College before attending Freed-Hardeman. He was a catcher for the Lions from 1998-1999. In 1998 he handled a pitching staff that set the school strikeout record with 301 and helped guide his team to 37 wins.
McCarthy received his bachelor's degree in history from Freed-Hardeman in 1999 and completed his master's degree in social science at Mississippi College in 2002.
McCarthy and his wife, Katie Beth, have three sons – Miller, 12, Andre, 11, and Keenan, 5.